Why would I want to fit a screen protector kit?
Our answer to that would be "why wouldn't you?". Modern motorcycle dashboard screens tend to be made from plastic and they are extremely easy to scratch by a quick wipe of your glove or a drop of your keys. It doesn't take a lot to damage these screens. Our kits provide excellent protection against scratches and marks to your precious (and expensive!) dashboard. They help retain resale value and in extreme circumstances could prevent the dashboard unit from failing completely. I've not priced up a new motorcycle LCD or TFT dashboard, but I'm guessing they're not cheap!
Our kits come in ultra-clear – for those who wish to 'fit and forget' – and also in anti-glare which helps to reduce reflections and glare to increase visibility.
Our kits are very good value for money and we ship worldwide for free!
Do they reduce visibility?
Our screen protectors come in two variants. There is the ultra-clear version which once applied will be hard to spot unless you are looking for it. They do not reduce visibility at all.
We also sell 'anti-glare' protectors. These use an anti-glare coating which is slightly matte in its finish. They do not have the same ultra-clear finish and remove the 'glossy' look that the plastic cover on LCD dashboards have. Some people prefer this to the ultra-clear protector as they feel it helps increase the clarity of the screens. These anti-glare screen protectors work best on the colour LCD screens such as those found on the Ducati 1199/1299 Panigale. Whether you would prefer the matte finish or ultra clear is up to you, but we offer both so you can choose.
Are they easy to fit?
Yes. However preparation is key here. Ensure you follow the supplied instructions carefully and also make sure you clean your dashboard thoroughly before applying the screen protector. You might end up with one or two tiny bubbles but once you fire up your bike you won't notice these anyway. Just make sure you remove as much dust/dirt from your screen first and then applying the protector should be a piece of cake.
Please see our instructional video below which shows the fitting process…
Who are Speedo Angels?
Speedo Angels was setup in the Summer of 2015 to supply owners of motorcycles with LCD/TFT dashboards a way of protecting them from scratches/marks and to also offer a way of reducing reflections and glare often associated with these electronic dashboards. Since then Speedo Angels has grown to cover multiple makes and models of dashboards and will continue to provide protection for suitable motorcycle dashboard shortly after their release. Speedo Angels are based in the UK
How long will it take to receive my order?
Screen protector kits are normally packed and shipped the same working day as purchase. They will always be shipped within 2 working days after full payment has been received.
* Within the UK we send kits for free via standard 1st class postage. Delivery time stated by Royal Mail is 1-2 working days. If you select the extra cost recorded delivery option, we will send the kit 1st class and a signature will be required upon delivery. Delivery time for 1st class recorded is 1-2 working days.
* Outside the UK we offer free international standard shipping. Please note that you will not receive a tracking number for this delivery method. If you require tracking and/or a signature please select the 'Tracked/Insured' delivery option during checkout.
European deliveries take 3-5 working days.
Deliveries for the rest of the world take 5-10 working days.
PLEASE NOTE THE ABOVE DELIVERY TIMES ARE ESTIMATES PROVIDED BY THE DELIVERY COMPANIES. THEY ARE NOT GUARANTEES. DELIVERIES FOR WORLDWIDE SHIPPING CAN SOMETIMES TAKE MUCH LONGER.
What is an 'extra fitting kit'?
On all of our product pages you will see that you can add 'extra fitting kits' to your order. All of our kits come with a fitting kit, these are the accessories you use to fit your screen protector. A kit includes a squeegee card, cleaning cloth and a sticky dust removal strip. The sticky dust removal strips are single-use and it also also easy to lose or mislay the other parts of the fitting kit, so we give our customers the option of purchasing extra fitting kits.
Why can't I buy just one screen protector?
All of our screen protector kits come with at least two screen protectors and we are asked fairly often why we don't sell kits with a single screen protector. The main reason is that although they are simple to fit, it is easy for something to happen during the fitting process meaning you aren't happy with the finished result. It could be a bit of dust that's got stuck, or a bubble that won't budge. Imagine how frustrating it would be to have received your kit only to be disappointed with the end result. With our kits you have the option of giving it a second go, or if you fitted your protector perfectly first time round then you have a spare which you can use at a later date, or give to a friend, or put on ebay etc…
What is the difference between Ultra-Clear and Anti-Glare?
We offer both Ultra-Clear and Anti-Glare protectors across our entire product range. There is sometimes a little confusion with our customers as to what the differences are, so hopefully the below explanation will help.
Ultra-Clear – Provides scratch resistance and protection whilst being almost invisible once applied. A 'fit and forget' product.
Anti-Glare – Provides the same scratch resistance and protection as our Ultra-Clear protectors, but also helps to remove the glare/reflections associated with LCD/TFT dashboards. Anti-glare protectors have a 'matte' appearance once fitted.
Below is an image that shows a Yamaha R1 2015+ TFT  dashboard fitted with and without an anti-glare protector to show you the difference. The lower dashboard has an anti-glare screen protector fitted and you can immediately see the reduction in glare/reflections. The photographs were taken within a few minutes of each other in bright, warm conditions…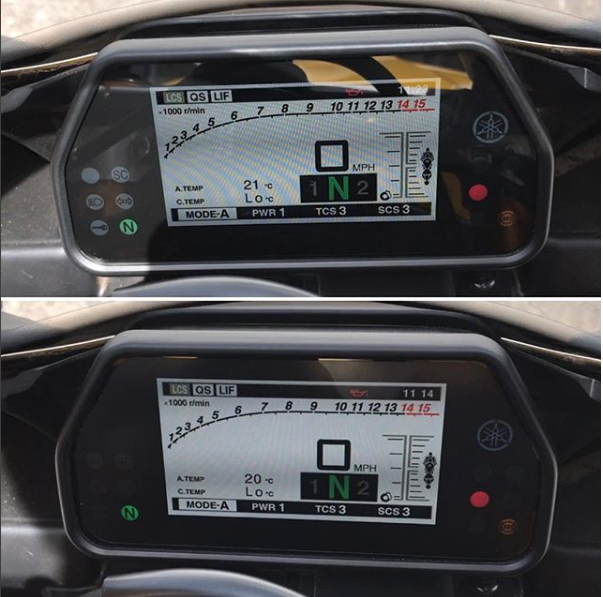 What is 'Nano Glass' and how is it different from your other screen protectors?
Nano Glass is made from a combination of plastic and glass materials compared to our standard screen protectors that are made completely from plastic. Nano Glass is thicker and has a higher scratch resistance compare to our 'standard' screen protectors. There are less fitting options available in Nano Glass because the material does not have the same flexibility as plastic so there are certain bikes that are not compatible with the material.
Nano Glass is a great compromise in strength, protection and cost and is a more premium product compared to our standard kits and because of this they are also slightly more expensive.
Benefits of Nano Glass:
9H scratch-resistance – As good as tempered glass!
Shatter proof
Flexible – Can fit on dashboards that are not completely flat
Ultra-thin – Up to half the thickness of tempered glass
High transparency
How do I know your screen protectors will fit my bike?
We take great care to ensure that our screen protectors fit accurately and that we have listed the correct protector for your model. We never release a product for sale until we are certain that the fitment is as accurate as it can be.
Generally Ducati retains the same dashboard shape for their entire model range, even if the dashboard displays themselves change. For example the Panigale LCD dashboard fitted to the 899 and 959 is the same shape as the TFT dashboard fitted to the 1199 and 1299. The same goes for the Ducati Monster range so the new 797 shares the same dashboard shape as the new colour TFT dashboard on the 1200R and therefore uses the same screen protector.
Terms and Conditions
Payment: We require 100% payment for the whole price of the goods that you order before your order can be accepted. Once accepted your order brings into existence a legally binding contract between you and Speedo Angels. Acceptance of this contract will occur upon clearance of your payment with us. We reserve the right to refund any payment and cancel the contract should an item be deemed unfit for sale or out of stock.
Returns: You have the rights (distance selling act) to return any goods delivered to you within 14 days of purchase, at your own cost and risk. We do advise to send all items as sent to you recorded signed for. Any further loss or damage to an item sent by you is solely your responsibility. Any sum debited to us from your chosen payment method will be re-credited back to the account debited. As soon as the returned goods in question are returned to us in the same condition as they were sent out.
Delivery: We will dispatch the ordered goods to you as soon as is it is possible to the address you provided at the time you make your order. We cannot be held responsible If an item is delayed through the postal service for whatever reason. All items purchased from Speedo Angels will be posted out using Royal Mail standard services unless additional services are purchased during the checkout process.
Liability: No Liability whatsoever can be taken for any damage or injury caused that has resulted from a component sold by us being fitted or supplied. If there is an issue with the fitment or a fault with an item simply return it to us for a full refund. We are more than happy to offer help and advice should you need it (see contact us page). Speedo Angels will not be liable for any damages of any kind arising from the use of our products found on this site, but not limited to direct, indirect, incidental, punitive and consequential damages. Speedo Angels will not be held responsible for any part fitted by any third party or cost to the purchaser if in doubt please seek advise and costs from a qualified fitter before purchase.
Cookie Policy
Cookie Policy
What Are Cookies
As is common practice with almost all professional websites this site uses cookies, which are tiny files that are downloaded to your computer, to improve your experience. This page describes what information they gather, how we use it and why we sometimes need to store these cookies. We will also share how you can prevent these cookies from being stored however this may downgrade or 'break' certain elements of the sites functionality.
For more general information on cookies see the Wikipedia article on HTTP Cookies…
How We Use Cookies
We use cookies for a variety of reasons detailed below. Unfortunately in most cases there are no industry standard options for disabling cookies without completely disabling the functionality and features they add to this site. It is recommended that you leave on all cookies if you are not sure whether you need them or not in case they are used to provide a service that you use.
Disabling Cookies
You can prevent the setting of cookies by adjusting the settings on your browser (see your browser Help for how to do this). Be aware that disabling cookies will affect the functionality of this and many other websites that you visit. Disabling cookies will usually result in also disabling certain functionality and features of the this site. Therefore it is recommended that you do not disable cookies.
The Cookies We Set
If you create an account with us then we will use cookies for the management of the signup process and general administration. These cookies will usually be deleted when you log out however in some cases they may remain afterwards to remember your site preferences when logged out.
We use cookies when you are logged in so that we can remember this fact. This prevents you from having to log in every single time you visit a new page. These cookies are typically removed or cleared when you log out to ensure that you can only access restricted features and areas when logged in.
This site offers newsletter or email subscription services and cookies may be used to remember if you are already registered and whether to show certain notifications which might only be valid to subscribed/unsubscribed users.
This site offers e-commerce or payment facilities and some cookies are essential to ensure that your order is remembered between pages so that we can process it properly.
When you submit data to through a form such as those found on contact pages or comment forms cookies may be set to remember your user details for future correspondence.
In order to provide you with a great experience on this site we provide the functionality to set your preferences for how this site runs when you use it. In order to remember your preferences we need to set cookies so that this information can be called whenever you interact with a page is affected by your preferences.
Third Party Cookies
In some special cases we also use cookies provided by trusted third parties. The following section details which third party cookies you might encounter through this site.
This site uses Google Analytics which is one of the most widespread and trusted analytics solution on the web for helping us to understand how you use the site and ways that we can improve your experience. These cookies may track things such as how long you spend on the site and the pages that you visit so we can continue to produce engaging content.
For more information on Google Analytics cookies, see the official Google Analytics page.
From time to time we test new features and make subtle changes to the way that the site is delivered. When we are still testing new features these cookies may be used to ensure that you receive a consistent experience whilst on the site whilst ensuring we understand which optimisations our users appreciate the most.
More Information
Hopefully that has clarified things for you and as was previously mentioned if there is something that you aren't sure whether you need or not it's usually safer to leave cookies enabled in case it does interact with one of the features you use on our site. However if you are still looking for more information then you can contact us through one of our preferred contact methods.
Email: [email protected]